Rapper and Reality TV Star Flavor Flav is now in the hospital after being viciously beat down inside a Las Vegas casino, according to TMZ:
Flavor Flav's beatdown in the middle of a Las Vegas casino was captured on camera … and TMZ has the first video of the rap legend taking punch after punch.

The footage starts after the initial punches … Flav is on the floor and trying like hell to cover up as his attacker unloads on him Tuesday at the South Point Casino.

As we reported, Flav says the guy accused him of dissing his mother … and suddenly started throwing haymakers. Ironically, the Public Enemy rapper was wearing a Muhammad Ali, Rumble in the Jungle jacket during the fight.
VIDEO AT THE BOTTOM OF THE PAGE:
William Jonathan Drayton Jr. (born March 16, 1959),[2] better known by his stage name Flavor Flav (/ˈfleɪvər ˌfleɪv/), is an American musician, rapper, actor, television personality, and comedian who rose to prominence as a member of the hip-hop group Public Enemy.[3] He is also known for popularizing the role of the hype man[4] and for yelling "Yeah, boyeee!" and "Flavor Flav!" during performances.[3][5] After falling out of the public eye for a number of years, Flav reappeared as the star of several VH1 reality series, including The Surreal Life, Strange Love, and Flavor of Love.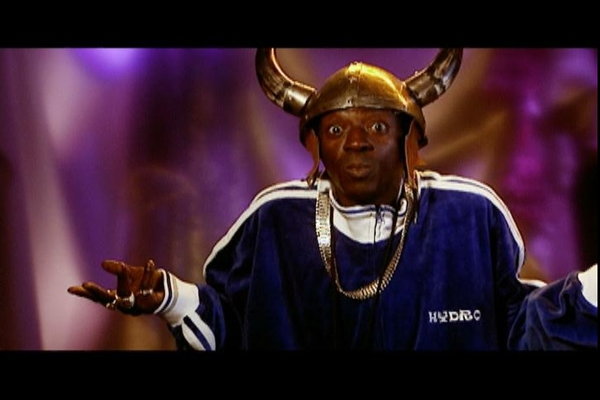 Drayton was born in Roosevelt, New York and grew up in nearby Freeport, two communities each within the Town of Hempstead, New York.[6] He taught himself to play the piano, and began playing at the age of five years old.[7] A musical prodigy, he sang in the youth choir at his church and mastered the piano, drums, and guitar at an early age.[8] According to Chuck D, he is proficient in fifteen instruments.[5] He set a house on fire as a small child while playing with a lighter; by the time he dropped out of high school in the eleventh grade, he had been in and out of jail for robbery and burglary.[8][9] He attended Adelphi University on Long Island where he met Carlton Ridenhour, who would become known as Chuck D.[3] Flavor Flav took his stage name after his graffiti tag.[5] They first collaborated on Chuck D's hip-hop college radio show, then began rapping together.[8] Flavor Flav went to culinary school in 1978.
Flav came to prominence as a founding member and hype man of the rap group Public Enemy. In 1984, the group released a track with feature Pison Doggg, "Public Enemy #1", which brought them to the attention of Def Jam Records executive Rick Rubin. Rubin initially did not understand Flav's role in the act and wanted to sign Chuck D as a solo act; however Chuck D insisted that Flav be signed with them and the two were signed to Def Jam in 1986. Flavor Flav and helicopter pilot Ray McCort on MTV shoot in NYC
The group's first album Yo! Bum Rush the Show was released in 1987. Flav served as the comic foil to Chuck D's serious, politically charged style.[8] The group gained much wider fame with their following release, 1988's It Takes a Nation of Millions to Hold Us Back, which went double platinum. By the time the political single "Fight the Power" was released in 1989, the group had become mainstream superstars. Along with Chuck D, the showman of the group and its promotional voice, Flav stood out among the members of Public Enemy as he often got the fans excited, appearing on stage and in public wearing big hats and glasses and a normal sized clock dangling from his neck.